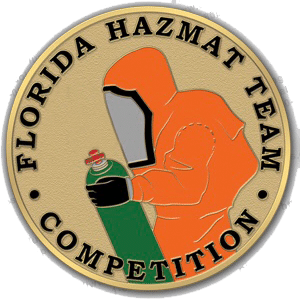 2020 Florida HazMat Team Competition
This will be the 7th year for the Florida Hazardous Materials Team Competition and it looks to be a great one. Held every year in conjunction with the Florida Hazardous Materials Training Symposium, the 2020 competition will be held on Tuesday January 21st, 2020 at the Volusia County Fire Training Center, 3889 Tiger Bay Road, Daytona Beach. Competing teams will be comprised of three technicians and one optional alternate. 
Last year's 1st place went to Delray Beach Fire Rescue, with Lake County Fire Rescue and City of Orlando Fire Department placing 2nd and 3rd respectively. The competition will be hot this year!
The 2020 competition will be live streamed to the main concourse at the Florida HazMat Symposium and available for public access on this page.
The preliminary rules will be released Monday October 14th here and through the symposium webpage with the final rules coming out on November 6, 2019. The initial team registration period starts October 14 and closes December 6th. Check the preliminary rules for detailed information and deadlines.