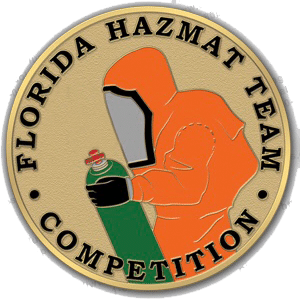 2019 Florida HazMat Team Competition
Tuesday – January 22nd, 2019 – Daytona Beach, FL
12 teams have registered to compete
and the registration period is now closed.
Come at see the competition either in person or through video stream on the main concourse at the Plaza Hotel on January 22, 2019.
Held every year in conjunction with the Florida hazardous materials training symposium, the 2019 Florida Hazardous Materials Team Competition will occur on Tuesday, January 22. Due to the explosive growth of this event and the Florida HazMat Symposium, this years competition will be held at the Volusia Fire Training Center in Daytona Beach and will be live streamed to the main concourse at the Symposium.
Competing teams will be comprised of three hazardous materials technicians and one optional alternate. The final competition rules and registration links are below. You don't have to be a Florida team to participate. Everyone is welcome. Deadline for team registration is December 14, 2018 unless the competition fills first. Don't miss the chance, register now.
See you in Daytona!